Karg
Evil master of cruelty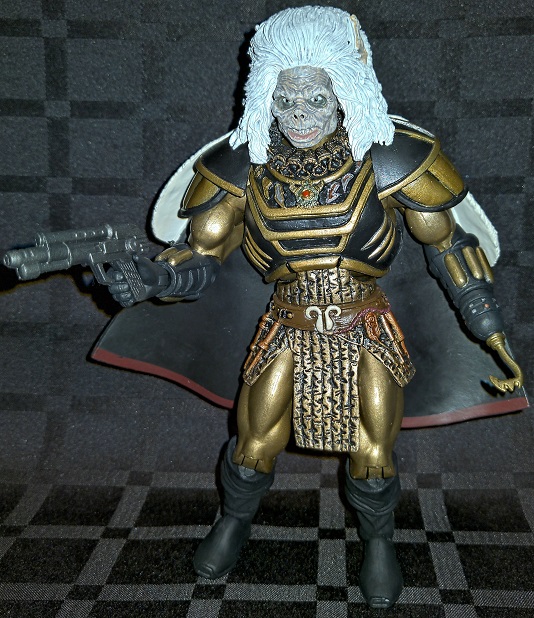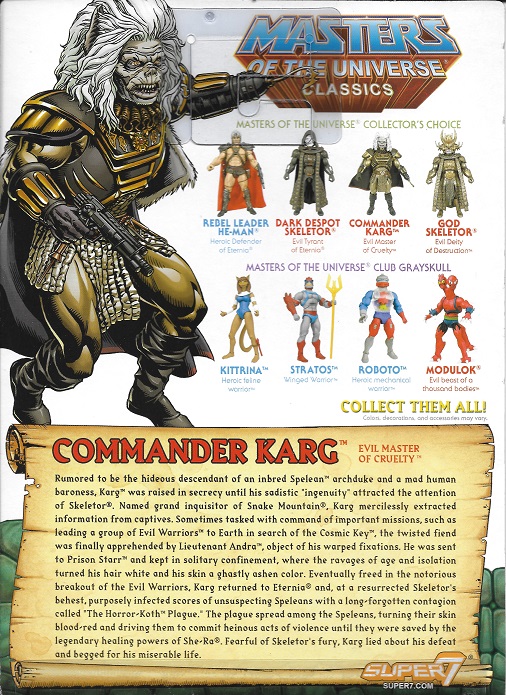 Rumored to be the hideous descendant of an inbred Spelean archduke and a mad human baroness, Karg was raised in secrecy until his sadistic "ingenuity" attracted the attention of Skeletor. Named grand inquisitor of Snake Mountain, Karg mercilessly extracted information from captives. Sometimes tasked with command of important missions, such as leading a group of Evil Warriors to Earth in search of the Cosmic Key, the twisted fiend was finally apprehended by Lieutenant Andra, object of his warped fixations. He was sent to Prison Starr and kept in solitary confinement, where the ravages of age and isolation turned his hair white and his skin a ghastly ashen color. Eventually freed in the notorious breakout of the Evil Warriors, Karg returned to Eternia and, at a resurrected Skeletor's behest, purposely infected scores of unsuspecting Speleans with a long-forgotten contagion called "The Horror-Koth Plague". The plague spread among the Speleans, turning their skin blood-red and driving them to commit heinous acts of violence until they were saved by the legendary healing powers of She-Ra. Fearful of Skeletor's fury, Karg lied about his defeat and begged for his miserable life.


If you want to comment this character, send an e-mail.